YES!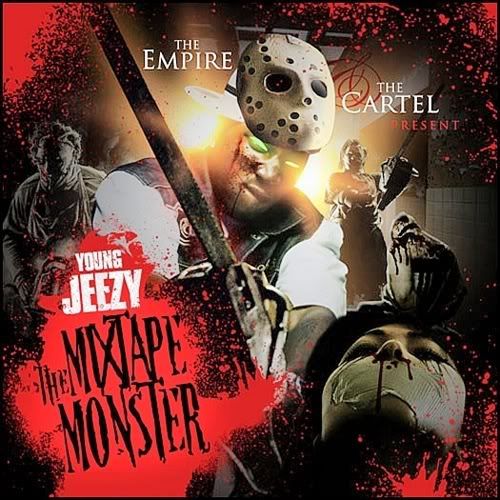 I love mixtapes like these that collect all of a rapper's recent guest spots and whatnot when they're in between albums. One of my favorite mixtapes from the past year was very similar to this, Young Dro's
Purp By The Pound
. Jeezy is having something of a renaissance right now, all of a sudden turning into an R&B love machine. His verse on "Love In This Club" is great because everyone can rap along to those first few lines ("Seshully, emoshunlly!") but it's a laughably simple and kind of stupid verse. Although I think he may have topped that one with his verse on this
new Mariah track "Side Effects"
which will probably be on her new album (EDIT: I'm retarded,
it's already out
). The verse is notable if only for its opening line, in which Mr. 17.5 exclaims that either he or the subject of his sexually seductive verse is "magnifical or should I say magnificent?" Amazing. There's also
a track with The-Dream
that I had never heard that is pretty awesome, but that's expected since it is The-Dream. I strangely haven't heard anything about a new Jeezy album but he's put out a bunch of good guest spots and remixes in the past year or so, and the
remix of "Superstar"
with T.I. has added to my slowly reversing opinion on Lupe (used to hate him, coming around...) Also, this mix has me checking for Slick Pulla, which is cool I guess. There's a track on here called
"Fuck The Other Side"
that I'm definitely feeling.
That Jeezy cover is just TOO ILL though! I woke up to
great news
(news? whatever) and this is just hitting the spot. I wish I could have done Rap Mixtape Cover Art as the subject of my Multimedia Graphic Design 15-page research paper because I think it's one of my favorite media for graphics in the world right now. Some of my favorites that are out right now: